Download Free Quilter's Creative Design Pro Demo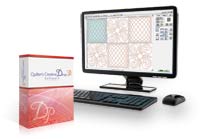 Try a FREE DEMO version of Quilter's Creative Design Pro pattern design software! This version will show you how you can create and layout designs, pantographs, blocks, borders and more. You will not be able to save any designs or print them out with this demo version.
---
This demo will work for Windows versions 8, 7, vista, and XP.
1. Click the download link below to save the demo to your computer.
2. Run the downloaded demo from your computer and follow the directions to install it.

Click to download the free demo here!