QuiltMotion Update for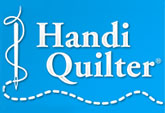 This update is for the Handi Quilter brand QuiltCAD only.
If you have the Grace Company brand of QuiltCAD please choose "General QuiltCAD" from the update page.
This Update will work for Windows Xp, Vista, and Windows 7.
Download Instuctions
Click the Download link below.
Click Save on the pop-up window to save the update to your computer.
Open the file on your computer to beginthe installation process.
QuiltMotion Update for Handi Quilter Version x.x.1.


Download Update